Hyperréalisme
18:55 23/12/02
PICT5428,
Recherche, Perso
J'ai toujours voulu peindre le plus parfaitement possible, et ce le plus rapidemement possible, et puis il y avait ces illusions d'optique de Dali qui me hantaient constemment depuis mes 6 ans, la gestalt theorie.
Alors j'ai reproduit la quatrième de couverture du premier album solo de björk "Debut", une photo noire et blanche assez contrastrée, que je trouvais absolument exquise, et je me suis mis à taguer, une heure durant avec mes deux posca© noir et blanc, tout ce qui me passait par la tête, cela m'entraînait en calligraphie, je pouvais trouver d'autres pseudos... C'était un peu comme une auto-analyse : l'inconscient, écrire, tracer, des lapsus et surtout des erreurs..



God, Allah... Dog, Unholy. You can have a gun and never shoot...
Des calligraphies supperposées, représantant de loin un portrait.. Hyperréalisme. N'étant plus aux bx arts, j'étais un artiste en solo, loin des circonvolutions, des cercles.. ; Je ne suis pas une pute, je suis péripatéticien normal, je pense en marchant et j'adore marcher, je veux pas sucer des queues, lécher des boules et me faire enculer pour plus ou moins de reconnaissance.
2001 : Je suis au bord de l'overdose de références, je ne peux plus imaginer quoi que ce soit sans qu'on te renvoit à un artiste ! J'ai envie de me refermer, être dans ma bulle, penser par moi-même...
2002 : hyperpeintur, libre de tout mouvement, et à force de taguer, d'écrire, de symboliser, le 9, le 11, je sais pourquoi le 11 septembre... C'est assez...
Ellaboré
. réfléchi au point de foutre le doute - tous ces conflits au nom de la paix,
des milliers de morts de chaque coté
- balle au centre, et cette affirmation super plate : le monothéisme est né d'une même humanité divisée en de différentes langues ;
pentateuque
(ch.)aussi thorah (j.) — Genèse, Exode, Lévitique, Nombres, Deutéronome ; sont un ensemble de prescriptions (religieuses, rituelles, culturelles, juridiques, etc.) tout comme le coran ou la bible satanique de
Anton LaVey
... une forme de code de déontologie, un code civil de base... et puis Job à écrit un livre aussi, et d'autres aussi l'ont fait encore..
Des apocryphes
, des trucs sélectionné par le Vatican, d'autres pas... et beaucoup de livres sacrés pleins de différents feuillets plus ou moins datés... Il y en a même un qui dit : " vous chantez ses louanges mais ne les pratiquez pas." Pas besoin d'attendre le blues et ses back door men pour savoir qu'il en est qui prennent dans le cul.
Pas d'hymen, pas de sang.
Brefs des livres sacrés pronnant le bon et... et on colonise, on pille on tue et on manipule ; avant-hier un pape fermait les yeux devant les trains de bétails pour Dachau, hier un autre était un junge waffen ss...
Parce que tu crois qu'un jour il y aura une papesse noire ?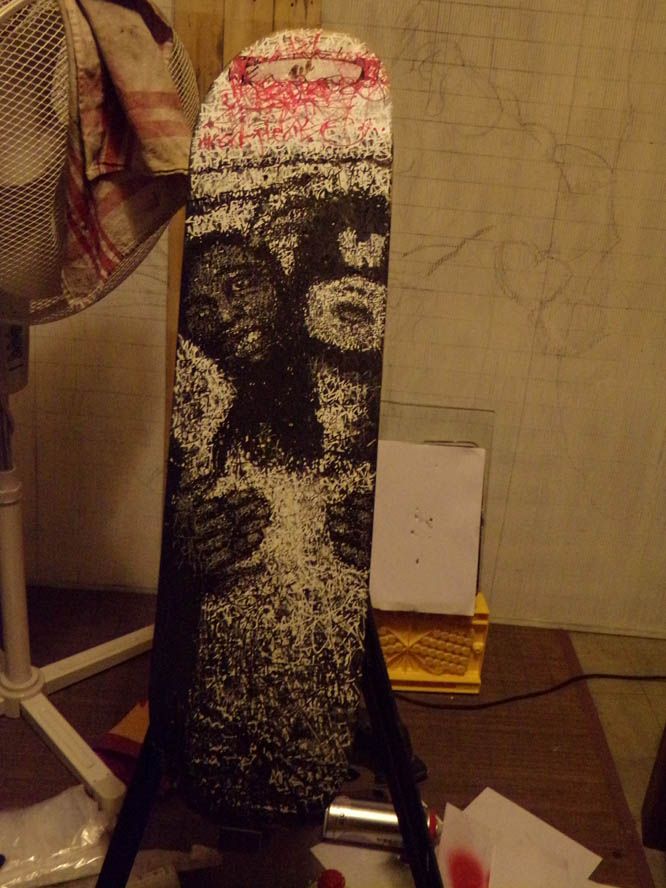 Les livres comme les gens, peu importe l'heure ou ton humeur ; le rang le statut le salaire, il y en a qui ne sont pas dut tout intéressant voire une perte de temps. Ils ne prennent pas de risques, jouant l'
illusion d'optique
. Tiens ! Cherche "académicien mort" sur google... Jean d'Ormesson. à la caisse, le bouquin " Un jour je m'en irai sans en avoir tout dit "... hum. Si arte passe la story, peut-être je regarderai, en biais, en dessinant..
to top