a_propos
1 79 Eu. Fr. 34 Mtp. Cx. d'Argt. 96
Pas besoin d'attendre la terminale / graduation year pour philosopher, la curiosité mène un train d'enfer pour qui sait se questionner. Voir des choses dans les nuages active une recherche dans la banque d'images du cerveau en un quart de seconde tandis que l'on continu de calculer, musique à fond et rêve de la veille en tête.
La représentation n'était pas ma priorité, mais le simple concept pur et dur. Cependant il faut passer par l'exercice moteur pour se permettre de délirer, sacrifier un bout de vie pour en gagner un autre : l'expression libre.

self dead portrait - 18:15 15/07/21
14:57 12/09/2008
Passer des jours et des nuits à tester, chercher des scripts, des fonctions... et un travail alimentaire. Un vrai bon chômeur sans réponse et bien rejeté de partout... Ou plutôt reçu nullepart...
Je pratique internet et paint dès 97...

Auparavant, j'ai étudié à l'ESBAMA de 99 à 02, École Supérieure des Beaux-Arts de Montpellier Agglomération (spécialisation dessin/peinture)... Et cette liberté ! Le mois de septembre... Le deuxième mois on fais l'appel...Il y a trop d'absentéimse... Déçu... Impression d'être en pisciculture... Observé, conseillé, jugé... Je vais me faire bouffer.

Anarchie-suicide
De 2004 à 2008, après 2, 3 formations, j'ai travaillé sans relâche, il me fallait m'approprier ce language : la programmation.
- html/javascripts au début; 04
- flash (la prog actionscripts est aujourd'hui caduques car trop sensibles au piratage) 06
- php/mysql ; 09

Mon point fort : allier webdesign ( photoshop illustrator flash dessin ) avec programmation ( html php css js )..

Webdesigner-Programmer-Admin Réseaux sociaux / Référencement-Webdev : Back-up & Front-end / Supports de com : Packaging-Mailing-Marketing et secrétaire-femme de ménage ? Un cdd à quintuple casquette pour 1300€/mois ? ... je laisse les gros porcs abuser de stagiaires, je suis pas dans ce trip paternaliste faux-cul ultra capitaliste.
Être employé deux mois et livrer le tout clefs en main à des gros bourgeois suintants roses en cravate ? ! Je fais pas du libre de droit. J'aime le travail bien fait, pas de la merde que je ne mettrai pas dans mon portfolio au prétexte qu'il faut bien bouffer...
Je fais ce que je veux.
Et paye tes disques durs de 256 mo ! 500, 1 terra...
Et cherche du travail en envoyant des curriculum vitæ restés sans réponses, sur les feuilles palichonnes télétranscrites par l'A.N.P.E. affichées dans un but, montrer que l'État fait quelque chose ; et l'employé ( aussi aguerri que moi en matière de contrats et petits boulots ) payé entre deux parties de solitaire à conseiller des offres sous-payées.
Bref ! Sans-emploi travaillant seul.. Je suis chercheur.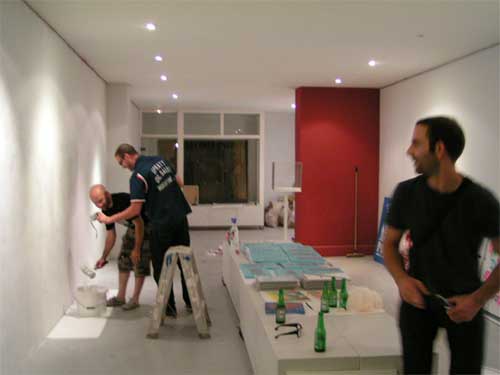 12/09/08@23:13 Honet, Poch & Eack - Montanashop Montpellier.

Aussi, un hobby de plus : tout en programmant, je choppe du son ; découvrir des groupes, quelque peu antifolk, indépendants... de l'intelligence dans le texte, ... du alexis hk, se faire une liste inextinguible de noms de groupes plus improbables les uns que les autres, to kill a petty bourgeoisie, ... Dessiner, préparer des projets, graffiti, peintures, murs...
Faire des meubles, du sur-mesure, dessiner les plans, les systèmes de pliages, être confronté à la simplicité de l'esquisse et la rudesse du poids, de la torsion. L'implacable réalité physique et sa fermeté. Un peu comme les gens, les autres, les personnalités rondes et carrées à la fois. Il y en a qui n'ont pas d'envies, de vie. Leur passion ? Pourrir la tienne. S'il coulent l'entreprise, ils se referont. Toi non, pas les moyens. Ne pas perdre de temps.


13 ans et en 1992, les magasines 1tox à 10 francs...


8h. Créer, chaque jour un dessin, un objet, une esquisse. Se sentir utile, dumoins créatif, laisser une trace, un trait un mot sur une idée. si il y a meurtre j'ai 10 To d'alibi... C'est le matin, on fait pas de bruit, on réfléchi aussi à la chaise mono planche mais c'est trop tôt pour jouer de la scie-sauteuse... Dessin.

10h. J'ai une idée, une page shuffle. Ordi.

Midi - j'ai pas vu le temps passer. Pas faim.

14h. Je sors me vider la tête pcq un script bloque et y'a pas le résultat escompté, marche 1 heure, des photos, terrasse café 15mn et paf ! je vais tester une autre fonction, je rentre, une idée, je la sketche et en même temps je choppe une petite phrase à la télé, je cogite, j'écris, je griffonne par dessus une demie-heure, puis je passe à une autre feuille, vite, du vide, du blanc A4, je trace le format de la toile là-bas, sketch un truc, puis vais vider quelques bombes, voir les couleurs, m'exercer à mesurer la pression du bout du doigt, tracer fin avec un fat cap...

22h, 15 feuilles, 10 clopes et j'ai toujours pas testé le script...

Je me suis fais sans arme et sans enfant. Beaucoup sont de sacrés connards, te piquent des techniques, s'approprient des idées... Heureusement j'ai lu "also sprach Zarathustra" de Nietzsche et j'ai le B.A.F.A.. Et un bout de chemin avec une bande de potes géniale, les portes du lycée n'étaient pas encore automatisées, les bongs et les bombes dans le sac, ivres de liberté et de terrains vagues.
Sexe alcohols et Cypress Hill. Ça vous laisser pas indifférent.